Recreational Pontoon Houseboat Work Boat 3rd Tube Addition Transport Platform Electricity Powered
BUILD-A-BOAT PONTOON KITS
Are you looking for Quality & Value? Buy your own Pontoon Kit directly from the Manufacturer.
Our prices for Pontoon Kits start from as low as 2,900$!
Buy a Pontoon Kit to Build A Boat of your very own as a Recreational Pontoon, Houseboat, Work Boat, Transport Platform,
Electricity Powered Pontoon or anything else you can think of. Your imagination is your only limit.
If you only need Pontoon Tubes, you can also buy a single unit or a pair directly from us at a great price.
Want to Build A Boat?
Call us now to Order or to Request a Quote!
You can also submit the Quote Request form at the end of this page or Email us directly at:
BUILD-A-BOAT PONTOON KITS & TUBES FEATURES:
Full Length Side & Under Keels for Tube Protection
5052 H32 Marine Grade Aluminum/Magnesium Alloy
Walls Thickness of 0.80" or 0.125"

Sealed Chambers every 5 feet

Full Length One-Piece Risers

Rear Mounting Brackets
Front Water Deflectors
Front Eyes
BUILD-A-BOAT PONTOON KITS INCLUDE THE FOLLOWING:
All Necessary Stainless Steel Bolts, Nuts, Screws, etc.
Assembly Instructions Manual

Aluminum Pontoon Tubes
Aluminum Motor Support
3" Wide Aluminum Edging
U-Bar Cross-Members

Aluminum Corners

Towing Bar
BUILD-A-BOAT FREQUENTLY ASKED QUESTIONS
How much does shipping cost & how is it handled?
Due to the almost unlimited variations in sizes for a Pontoon Kit or Pontoon Tube, shipping costs are evaluated on a case by case basis. We usually ship our Pontoon Kits and Pontoon Tubes by freight or by container. There is also the possibility that you come and pick-up your Pontoon Kit or Pontoon Tubes directly at our factory in Grand-Mere, QC(Click here for map). To get a shipping quote or for more information, don't hesitate to contact us.
How many hours does it take to assemble a Pontoon Kit & what tools will I need?
The hours it takes for assembly varies depending on the size of the Pontoon Kit, but to give an example, a 19"x16' Pontoon Kit assembled by two persons will take an average of 4 hours to Build A Boat. For assembly, you will only need basic tools such as: Power Hand Drill, Ratchet Wrench, Pop Rivet Gun, Electric or Manual Saw, Drill & Drive Bits, 25' Measuring Tape, 35' of String or longer and a Marker or Pencil.
What is the weight/passenger capacity of a Pontoon Kit?
The weight and passenger capacity of a Pontoon Kit varies greatly based on the size of the Pontoon Tubes. For accurate capacities, don't hesitate to
contact us
, but as an example you can use the following formula:
Multiply the length of the Pontoon Kit by the weight per foot of the Tubes.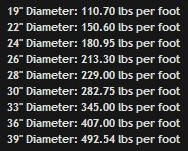 Do you sell complete turn-key Pontoon Boats?
We only sell Pontoon Kits and Pontoon Tubes for customers wanting to Build A Boat. If you are looking for a turn-key Pontoon Boat or for any other application such as a Cruise Boat, Transport Boat, Commercial Boat or Industrial Boat, then take a look at our parent company, TechniKal, which specializes in custom aluminum boats.
Where can I buy everything else to complete my Pontoon Boat?
There are many distributors of Pontoon Boat accessories that you can find on the web, but to help you in your quest to Build A Boat,
Want to Build A Boat?
Call us now to Order or to Request a Quote!
You can also submit the Quote Request form below or Email us directly at: